---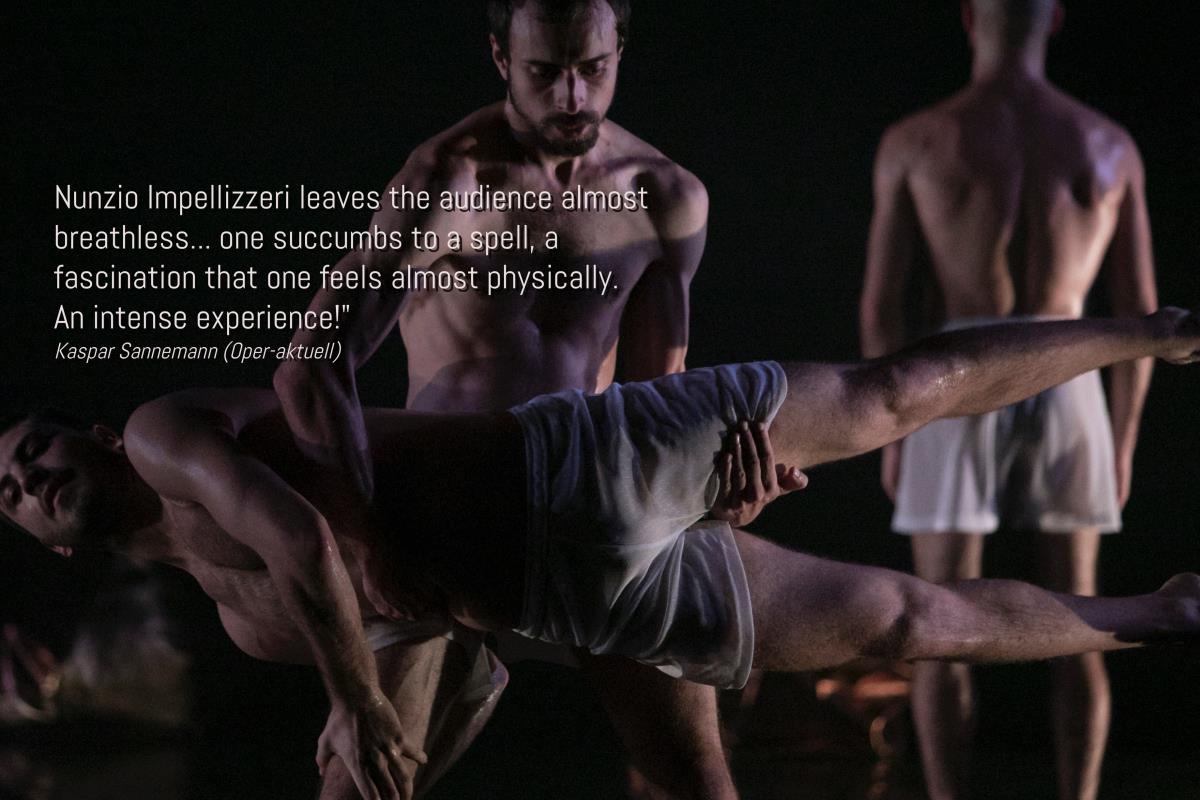 The NUNZIO IMPELLIZZERI DANCE COMPANY was founded in 2014 to produce and promote the work of artistic director and choreographer Nunzio Impellizzeri.

The purpose of the Nunzio Impellizzeri Dance Company is to offer audiences unique experiences and perspectives in the performing arts. The incisiveness of dance and body language challenges, surprises and moves the audience with its ability to dissect and question social behaviour.

Nunzio's background in the visual arts plays an important role in his creations: his studies in art history, life drawing, sculpture and costume design deeply influence the way he creates his work. After graduating in Fine Arts in Sicily, he realised that dance was closest to his nature and the most suitable artistic medium to paint, shape and transform space. His artistic research is characterised by a strong and dynamic physicality, captivating images and an innovative use of space. Observing human behaviour within the social construct, he fuses physical and conceptual aspects to transform the atmosphere of the performance space into a space open to dialogue, strongly promoting an inclusive society. Nunzio Impellizzeri's artistic goal is a commitment to collaboration, curiosity, innovation and the concept of community.

The Nunzio Impellizzeri Dance Company works closely with internationally renowned dancers and collaborators. Recognised for the excellence of its performers and the versatility of its choreography, the company's work has been presented in theatres and at international festivals in Switzerland, Germany, Russia, Italy, Finland, Denmark, Chile, Spain, North and Central America.

For Nunzio Impellizzeri, dance, like all other art forms, is a powerful medium for dialogue that promotes and raises awareness of diversity. Dance is an infinite enrichment for the culture and spirit of people.
COLLABORATORS


The Nunzio Impellizzeri Dance Company is reliant on many talented artists to bring its audience high quality productions.
COMPOSER

Tarek Schmidt
Selma Mutal
Jan Willem de With

PHOTOGRAPHER

Maria Cheilopoulou
Christian Glaus
Caroline Minjolle
Michael Bosshard
Wolfgang Probst
Federica Capo
Joël Strübi
Mario Sguotti

VOICE

Denise Nicolini

MUSICIAN

Johanna Schaub

COSTUME DESIGNER

Ben Voorhaar & Sabrina Zyla
Ursina Baur
Joerg Loacker

DRAMATURG

Silvia Scipilliti
Riccardo Corcione

LIGHT DESIGNER

Marco Policastro
Luis Perdiguero
Marek Lamprecht

VIDEO ARTIST

Isabelle Simmen
Yves de Prà
Valentin Huber
Kristian Breitenbach
Lukas Beyeler

STAGE DIRECTOR

Stefan Falk
Viktoras Zemeckas

DIGITAL DESIGNER

Tom Lang

GRAFIK DESIGNER

MKS / RB engineering
---