---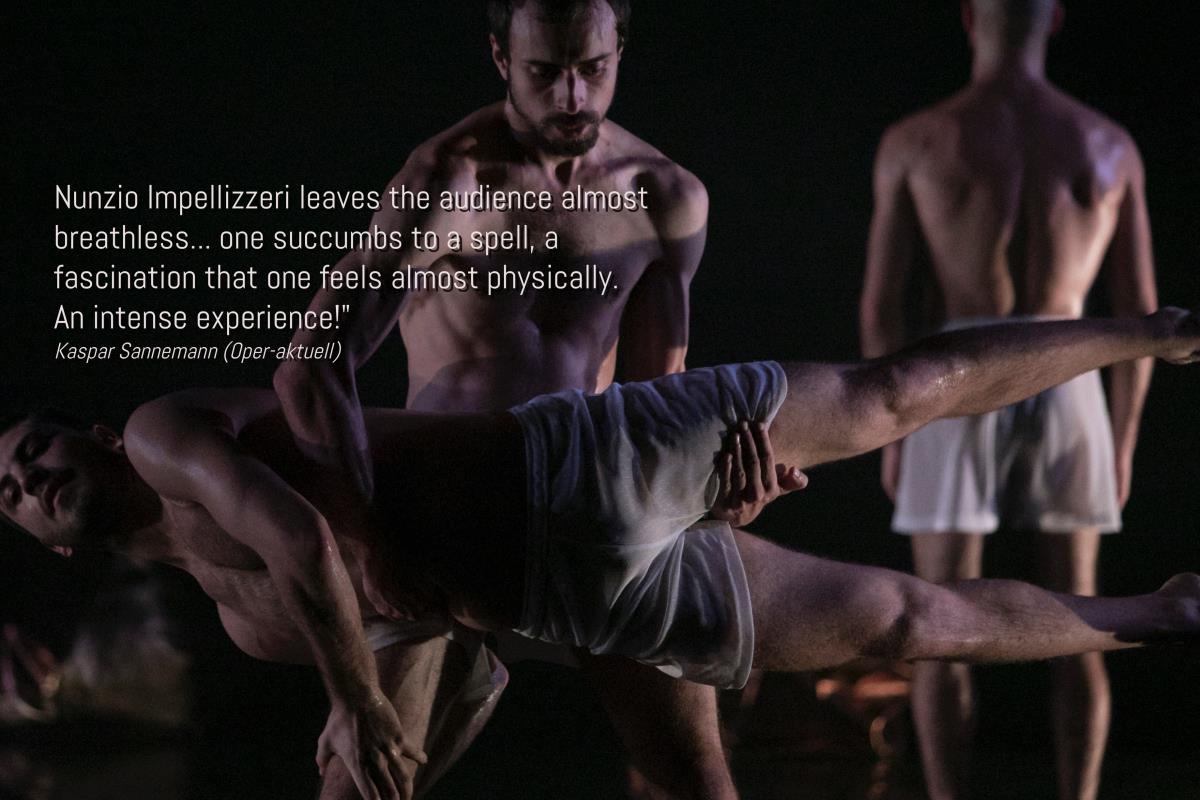 NUNZIO IMPELLIZZERI DANCE COMPANY was founded in 2014 to produce and spread the work of artistic director and choreographer Nunzio Impellizzeri.

The launch of the Zurich based company was the dance video "Quieta... inquietudine", which has been awarded with the audience prize at the Loikka Dance Film Festival for the 60secondsdance competition in Helsinki in 2016.
The company's work furthermore includes the full-length works: WAY OUT (2015), IN.QUIETA ROOMS (2017), CORPO BAROCCO (2018), SCH.NEE (2022); the performance-installation PLEASE, HOLD ME (2021); the site specifics: LOST & FOUND (2015) and HAPPENING (2016); the dance films: WATER RESISTANT (2013), Quieta... inquietudine (2014), THE DOCTOR SAID (2017) and CURA (2017).
Nunzio Impellizzeri's artistic work is characterized by its strong and dynamic physicality, enticing images and innovative use of space. Observing human behaviour within the social construct, he melts both physical and conceptual aspects to transform the atmosphere of the performance space. The Nunzio Impellizzeri Dance Company works closely together with its team of international renowned dancers and collaborators. Applauded for the excellence of its performers and the versatility of its choreographies, the company's work has been presented in theatres and international festivals in Switzerland, Germany, Russia, Italy, Finland, Denmark, Chile, Spain and Central America.
The artistic team of Nunzio Impellizzeri Dance Company strongly believes in a statement found in Todd Lehman's book "The Streets of Sicily", where he states that choreographers, like playwrights, have a magic toolbox from which they can build pictures that fascinate, intrigue, and entertain. They can create mirrors that force an audience to take a better look at their lives and at a society and its mechanisms.

The company's artistic aim is to move the audience, surprise them, challenge them and make them question social behaviour through a fearless use of intense body language.
COLLABORATORS


The Nunzio Impellizzeri Dance Company is reliant on many talented artists to bring its audience high quality productions.
COMPOSER

Tarek Schmidt
Selma Mutal
Jan Willem de With

PHOTOGRAPHER

Maria Cheilopoulou
Christian Glaus
Caroline Minjolle
Michael Bosshard
Wolfgang Probst
Federica Capo
Joël Strübi

MUSICIAN

Johanna Schaub

COSTUME DESIGNER

Ben Voorhaar & Sabrina Zyla
Ursina Baur
Joerg Loacker
Theama for dance

VOICE

Denise Nicolini

DRAMATURG

Silvia Scipilliti
Riccardo Corcione

LIGHT DESIGNER

Marco Policastro
Luis Perdiguero

VIDEO ARTIST

Isabelle Simmen
Yves de Prà
Valentin Huber
Kristian Breitenbach
Lukas Beyeler

STAGE DIRECTOR

Stefan Falk
Viktoras Zemeckas

DIGITAL DESIGNER

Tom Lang

GRAFIK DESIGNER

MKS / RB engineering
---