---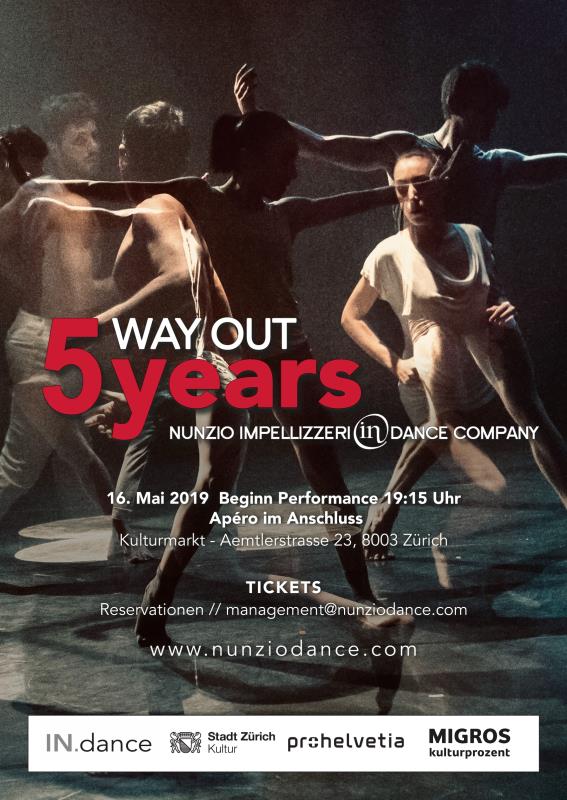 Nunzio Impellizzeri Dance Company celebrates 5 years of creations and tours with the performance WAY OUT and an APERO!


WAY OUT
PERFORMANCE + APERO
16 Mai 2019 // 7.15 pm
Kulturmarkt Zurich
"A Dance mosaic made by poetry and the body. In Nunzio Impellizzeri's creation the theme of loss is powerful as well as delicate. To make the difference is the rendering of a lights concept and refined musical choices. Interesting (...) is the clear focus that Nunzio gives to the bare physicality of the body and movement, which today are often sacrificed in favour of too conceptual performances."
Thierry Frochaux (P.S. Zeitung)

____________________________________________________________________________________

Artistic Direction / Concept and Choreography: Nunzio Impellizzeri
Dancers: Claudia Crispino, Antonio Moio, Maria Polliani, Dominik Mall
Voice: Denise Nicolini
Rehearsal Direction: Irene Andreetto
Stage / Light / Costume design: Nunzio Impellizzeri
Technical Director: Viktoras Zemeckas
Production Management: Manfred Dachs
Acknowledgements

-
Nunzio Impellizzeri Dance Company was founded in Zurich in 2014 to produce and spread the work of artistic director and choreographer Nunzio Impellizzeri. The company's major work furthermore includes the creations, QUIETA... Inquietudine, WAY OUT, HAPPENING, IN.QUIETA ROOMS and CORPO BAROCCO. Nunzio Impellizzeri Dance Company's work has been presented in theaters and international festivals in Switzerland, Germany, Russia, Italy, Finland, Denmark, Chile, Spain and Central America.
Thanks

-
Many thanks to the venues for their trust: Tanzhaus Zurich (CH), Theater am Gleis Winterthur (CH), Grabenhalle St. Gallen (CH), Kulturmarkt Zurich (CH), Tanz:now 2018 (CH), Phönix Theater Steckborn (CH), Landesmuseum Zurich (CH), Museo d' Arte di Mendrisio (CH), Theater Felina-Areal Mannheim (DE), Dance Festival Skorohod Swiss Week 2016 (RUS), Prisma Dance Festival Panama City, Loikka Film Festival / 60secondsdance (FI), Artgarage choreographic centre Pozzuoli (IT), Videodance - Centre del Carme Cultura Contemporània València (SP), Zurich University of the Arts (CH), Odense International Film Festival (DK), Bestias Danzantes Dance Film Festival Santiago (CL), Teatro Bellini Naoli (IT). Our heartfelt thanks go to all the funders, partners and collaborators of the company, to the dancers, creative people and everyone who supported our company since its inception. Thanks to the association IN.Dance - the friends of Nunzio Impellizzeri Dance Company for them support and commitment.
---